Shoe Cover Dispenser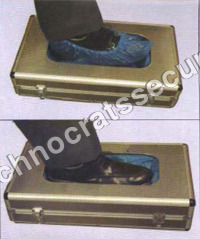 Shoe Cover Dispenser
Shoe Cover Dispenser
We are a renowned manufacturer, supplier, and importer of various important products that are extremely helpful for clients. Our range of Shoe Cover Dispenser is one of the most advanced household product which can be used for protecting your shoes from dirt and dust. These covers are easy to use and labor saving products. Shoe Cover Dispenser also saves your precious time. With below given additional advantages Shoe Cover Dispenser is available.
Additional advantage:
Avoid the embarrassment of holes on socks.

Avoid the unpleasant smell.

Eliminate the dermatophytosis spreading.

No need to bend over to wear shoe covers.

Save the trouble of cleaning floor afterwards.

It is largely used in hospital, factory, office, laboratory, home etc.
Features:
step in, and shoe cover on
Just a simple slight step, a shoe cover will automatically snap on your foot.
Totally hands free
easy to use
No need to bend over