Automatic Hand Dryer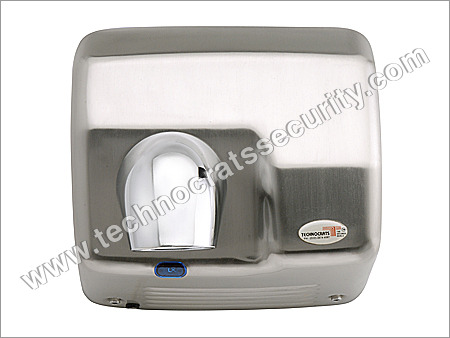 Automatic Hand Dryer
Having 27 years of experience, we have become a prominent manufacturer and supplier of high grade Automatic Hand Dryer. Our provided dryer is fitted in washrooms for drying hand after wash. The offered dryer is manufactured with the help of advanced technology by utilizing fine grade components under the visionary guidance of our skilled professionals at our sophisticated production unit. Moreover, this Automatic Hand Dryer is available with us in different specifications to meet the exact need of clients.

Features:
Sturdy construction

Easy to use

Precisely designed

Application specific design
Automatic Hand Dryer
We are offering finest variety of Automatic Hand Dryer. Automatic Hand dryer is fitted with technologically advanced sensor which senses the hands below dryer and sends a signal to start the motor. For making these high quality dryers best quality raw materials that are procured from authentic vendors are used. Automatic Hand dryers do not consume much energy and offer superior operation in almost all conditions. Important features of Automatic Hand Dryer are given below.
Alpha Series:
Alpha AP - 600 :
Semi-automatic,starts with push button & stops automatically.
Alpha AP - 800 :
Fully Automatic, starts 'on' positioning & stops on withdrawing your hands.
Alpha AP - 800 Delux :
Fully automatic with music.
Beta Series:
Beta filter - BTF - 800 :
Fully automatic with pre-filter for Hospital & pharmacy.
Gamma Series:
Gama-600 : Semi automatic.
Gama-800 : Fully Automatic.
The above model are available in Delta, Sigma, & Gama Deluxe Range.
Beta Filter- BFT - 800 :
Hospital & Pharmacy range : Fully automatic with pre-filter.
Salient Features:
Heater element protection by

thermostat and thermo fuse.

Automatic Models with "1" minute cutoff to prevent from mischievous & Tampering.

Inbuilt voltage regulator in the electronic circuit to withstand voltage fluctuation.

Motor protected by T.O.P.
Series

Alpha

Beta

Gamma

Power in Watts

1550

1550

800

Drying Time in sec.

25 to 30

30 to 35

40 to 55

Dimensions
W x D x H

300 x 190 x 320

300 x 190 x 320

215 x 155 x 270
Technical Details
Sr.No.

Model

Drying Time

Velocity m/Sec.

Dimension

Wattage

Motor

1

Alpha Range

25 Sec

12

320X300X190

1800 watt

Induction

2

Alpha Eco Range

25 Sec

9

285X290X220

1500 watt

Induction

3

Delta Range

25 Sec

12

250X260X265

1800 watt

Induction

4

Sigma Range

25 Sec

11

260X285X175

1200 watt

Induction

5

Sigma Eco Range

25 Sec

9

260X280X180

1800 watt

Induction

6

Gama Range

25 Sec

8

270X215X155

1800 watt

Shaded Pole

7

Gama Deluxe Range

25 Sec

8

205X230X135

800 watt

Shaded Pole

8

Game Eco Range

25 Sec

7

230X180X150

700 watt

Shaded Pole

9

Sleek Range

25 Sec

10

260X195X105

1200 watt

Induction

10

Classic Range
( SS / Fiber )

25 Sec

11

265X170X100

750 watt

Universal
Technical Details : Magnum Hand Dryers - Fumagalli
| | |
| --- | --- |
| Functioning | Push button (timer 36 sec) |
| Cover material | Carbon steel |
| Cover closing | By stainless steel bars |
| Base material | Aluminium |
| Net weight | 8 Kg |
| Supply voltage | 220/240 V |
| Mains frequency | 50/60 Hz |
| Absorption motor - n. revolutions | 250W - 5500 rev./min |
| Absorption heating element | 2000 W |
| Overall power absorption | 2250 W |
| Noise level | 78 dBA |